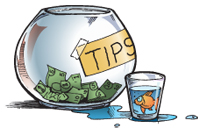 These cartoons are provided for your enjoyment free of charge.
If you enjoy our cartoons on a regular basis, keep on enjoying and consider tipping the artist for his work. Better yet, advertise with us and share a return on your investment.
Way Cool gifts available for your donations.
See below for details.
---
Donation amount:  
$5 — We list the URL of your choice (upon approval) among our links
$10 — Free Politix Anthology e-book
$25 — Signed print of your favorite cartoon
$50 — Free tee shirt of your choice
$100 – Signed original inked cartoon
What are you waiting for? Donate today!